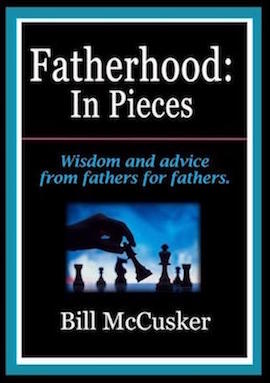 Now, more than ever ... we need good fathers. We need their courage and strength, their good humor and hard work, their protection, judgment, perseverance, discipline and love. Fathers who, along with loving mothers, offer the best chance for that newborn — and our families, communities and country — to grow and thrive.
-From Fatherhood: In Pieces
Fatherhood: In Pieces gives the verbatim perspectives from thirty-five fathers – young, not so young, white, black, rich and not so rich -- on what it means to be a good dad. Bill McCusker has packaged these perspectives in bite-sized "pieces" of advice pertaining to Roles, Values, Discipline, Wives and Mothers, Expectations of Your Kids, and other chapters in what fatherhood is all about. Whether you are a father, a mother, or a child of any age, Fatherhood: In Pieces will give you honest, personal, and helpful insights into what these noble creatures called fathers should be doing in a vitally important role.
---
Chapter Highlight
Each Chapter Highlight focuses on one chapter from Fatherhood: In Pieces. This one: "Describe Your Father".
Sample pieces from the 35 fathers interviewed:
I'm almost just getting to know my dad even though he died a long time ago.
I think every child instinctively knows that they need to have a strong male figure in their life, and when they don't have that, there's a void.
But he wasn't a hugger. He wasn't demonstrative. I know he loved me, but he never showed it.
I went to the funeral of a close friend. His daughter said, "My dad wasn't perfect, but he was perfect for me."
Questions for you:
What was your father like? Good points and bad points?
What influences did he have on you? What are the most lasting impressions?
Are you emulating what he did well? How?
Are you avoiding what he did poorly? How?